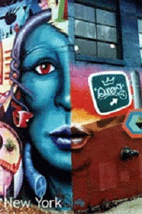 RAP MUSIC: THE USUAL SUSPECT
by Yvonne Bynoe









http://www.urbanthinktank.org

Three years ago after the Notorious B.I.G. was killed, I wrote a piece that was published in the Baltimore Afro-American Newspaper entitled "Don't Blame Rap for America's Violence." The gist of the commentary was that rap music was being used as a scapegoat for America's inability or unwillingness to deal with its own violent propensities. In short, rather than dealing with the sources of violence [readily available guns, poverty, alcohol and drug abuse], the conservative pundits touted that the end of rap would spell the end of the nation's problems. My comments were initially leveled at white journalists who blamed the artist's lifestyle for his death, and politicians who talked ad nauseum about the deleterious effects of rap music, yet also supported cuts in education spending and the National Rifle Association. Unfortunately, now I am directing similar comments to the leaders of New York's National Puerto Rican Parade Committee.
In June of this year, more than 50 women were sexually assaulted by marauding groups of men during the National Puerto Rican Parade in New York City. The police have charged 30 men in the attacks and are searching for 17 others. Aside from the depravity of the assailants, contributing factors to the assaults included drug and alcohol use and a laizze faire attitude by the NYPD. Now in the aftermath of this violence against women, the parade's directors are considering a ban on some floats carrying rap performers whose music, they claim, glorifies violence and attracts the unruly mobs that have damaged the parade's reputation. Frederico Perez, a board member since the 1960s and a former councilman from the Bronx, was reported as saying that some of the rap music had "negative connotations;" attracting youths who take their shirts off and become boisterous hordes. Perez stated that, "We want music that is representative of us. That is representative of the Hispanic." To make a statement like that, Perez shows that he is unaware of the Latino contribution to Hip-Hop.
Anyone who traces the history of rap music and hip-hop culture knows that Blacks and Puerto Ricans in New York City were the originators of the art form. Individual MC's and DJ's were in well-known groups like Fearless Four and Fat Boys. After Kurtis Blow, the Fearless Four was the first rap group to be singed to a major record label [Elektra]; creating classics like "Rockin' It" and "Problems of the World." The crew included a Puerto Rican named "Devastating Tito" Dones and DJ Oscar "O.C" Rodriguez. Also there is also the legendary DJ Charlie Chase who spun for the Cold Crush Brothers. Although rap artists like Mase, Puffy and LL Cool J have dabbled in Spanglish [the hybrid of Spanish and English] on some of their records, they were not breaking any new ground. In 1981, an MC crew called the "Mean Machine" put the first bilingual rap on wax with the song the "Disco Dream" for Sugar Hill. Additionally, Mellow Man Ace's 1990 song, "Mentirosa," was the first Latino rap record to go gold. Today Latino artists like Fat Joe, the late Big Pun, Noreaga and radio personality Angie Martinez are considered just as much a part of hip-hop as Busta Rhymes or Redman.
For years the parade has attracted Latino and African-American rap artists and DJs who pay for their own floats or are sponsored by radio stations. Rap artist Fat Joe, whose real name is Joseph Cartagena, was quoted as saying that he and other artists believed that the parade officials failed to welcome them despite their popularity among Puerto Rican youth. According to Fat Joe, "The problem with the board is that that everyone is very old, and even without this problem happening this year, we always have different problem with them each year." He added, "It seems like our money is good and the attention we bring to the Puerto Rican Day Parade is good, but our cause is not really accepted." Parade board member, Madelyn Lugo, echoed Frederico Perez's statement about the music being "representative of Hispanics," by saying that "If they play music, they can play something in rap, but they should identity at least with Puerto Rican culture." It would be easy to write off these people as old fogies who seem to be clinging to memories of mambo king, Tito Puente, in the way one wrote off the Reverend Calvin Butts when he choose to steam roll rap CDs in Harlem several years ago. The difference in this instance however is that the parade officials' comments are tinged with racism.
Latinos and African-Americans have always had a precarious relationship. In many states like California, New York, Texas and Florida, all of which have large Latino populations, the two groups often occupy the same low-end of the economic totem pole. Despite our proximity to one another, there is real tension between Blacks and Latinos. It seems that many Latinos seem to harbor the same racial prejudices against Blacks that Whites do. In a recent New York Times series on race, white Cubans warned a new immigrant, a white Cuban, to stay away from Black people and Black neighborhoods in Florida because Blacks were deemed lazy and prone to criminality. Now two boyhood friends, one a white Cuban and the other an Afro-Cuban, once in America have ceased to associate with one another since here white Cubans can publicly exhibit their racial bias more openly than in Cuba.
In New York in particular, the mass migration of Puerto Ricans to New York began in the 1950s, and from that time on, African-Americans and Puerto Ricans [as well as other Latino groups] have lived near each other, worked together, and married each other, yet there are still issues around race. When Puerto Rican actress/singer, Jennifer Lopez appeared in court to testify for her boyfriend, rap artist, Sean "Puffy" Combs, I saw a Puerto Rican spectator say to the television news reporter that Lopez was "disgracing her race," by defending Combs. The last time that I checked, Puerto Rico was not a race but an island comprised of the descendents of Taino Indians, African slaves and Europeans. An acquaintance of mine, when mistaken for an African-American, will instantly state that she is "Puerto Rican, not Black" as if the two were mutually exclusive. The connotation in those statements is that Puerto Ricans are different, if not superior, to average Black people.
Similarly, although the attackers were a mix of Black and Latino men, in one television interview a parade official stated that after viewing the videotape of suspects, he knew that were from "outside of their community;" i.e. was not Puerto Rican. As a viewer I thought that this was an asinine statement, since there are White Puerto Ricans, Black Puerto Ricans and everything in-between, so how could he tell from a videotape who was Puerto Rican, much less who is even Latino? People often approach me speaking Spanish, so looks alone definitely cannot identify an "average Black woman" from a Latina. Such presumptions are based on what the Latino deems is Latino; Perez and his ilk live in one reality while the people who approach me live in another.
Many Latinos, including rap artists and radio personalities, oppose the rap ban. Bronx Assemblyman Ruben Diaz, whose district includes the Bronx River Houses where rap music was born, said that he thought that Perez's assertions were off the mark. Diaz is quoted as saying, "I love rap music and I didn't grow up hassling women." Diaz, whose parents are from Puerto Rico also said, "Somebody who says rap music or hip-hop is not part of Puerto Rican culture would be sadly mistaken." Parade officials, by targeting rap music as disruptive, from "outside" elements and not "Hispanic," are merely exposing their own latent racial biases.
At issue is not cultural pride but acknowledgements that rap music, with its African-American roots and following, is indeed part of Latin youth culture. Parade officials indeed have the right to limit music that they deem offensive, however banning rap alone will not necessarily prevent future incidents. In order to curb parade violence, officials of National Puerto Rican Parade need to acknowledge that they have failed to take responsibility for any part of the melee not educating revelers [of any race or color] not to bring drugs and booze to the parade. Additionally, their voices have been virtually non-existent in admonishing the NYPD for their shoddy paroling.
Ultimately, rap is a form of entertainment that does not appeal to all, but violence will be curtailed not by censoring the messages, but by getting to their origins. It is far too easy to say that youth are feeble brained and thus susceptible to rap's messages rather than do the necessary work to alleviate the poverty and dysfunction that mar their existences.


JURASSIC 5: LAUSD

[Jurassic 5]
Yo, we are no superstars
Who wanna be large and forget who we are
Don't judge us by bank accounts and big cars
No matter how bright we shine we're far from being stars
Cause stars fall, and disintigrate before they hit the
Asfalt, they incinerate cause we came
Not to destroy the law but to fulfill
For those who appreciate those with skills
And fresh windmills, and graf that kills
What is a DJ without the scratch to build?
Without the elements, it's all irrelevant
Niggas love to Freestyle but hate to Fellowship
[Zaakir]
Yeah, taste the city's agenda, most of you outta town niggas
Get caught up and turn bitter, the city of bullshitters
Where hopes are blown, not even money for the phone
Now tell me what's the solution, how to get back home?
[Charli 2na]
Yo, don't get caught up in glamor and glitz and camera tricks
The Land of the Dead, before you come examine your set
Where drama collects and women use special effects
Where amateur stunts can make a nigga damage your fronts
[Akil]
Uh, the California Sunkist with a twist of limelight
Some set trip on the Sunset Strip
Belive the Hide Boulevard nice, the glamorous life
Many searching for the fame but can't afford the price
[Marc 7even]
She would turn you out if you wasn't prepared
She would tell you the things you wanted to hear
She would blur your vision when it once was clear
This chick is full of tricks so approach with fear, cause
[Jurassic 5]
Yo, we are no superstars
Who wanna be large and forget who we are
Don't judge us by bank accounts and big cars
No matter how bright we shine we're far from being stars
[Zaakir]
You say you love LA, you say the weather is great
Plenty sun in your face, you like the cars with bass
You like the way we paperchase and the women that shake
In the land of earthquakes and high crime rates
A lot of people is fake, this is Hollywood
We shape the minds of kids in every hood
We make your past situation look good
The nights filled with Shugs and I wish you would
[Marc 7even]
Can dance with Alvin Haley and Les Miserables
In this century city, you can walk on the stars
Sex, money, and murder, yeah it's all 4 to 5
Cause fame and passerby with the name immortalized
[Akil]
On the avenue of stars, many names are called
On the boulevard, known for leaving permanent scars
Many dreams get robbed, real movie macabre
Young heartthrobs get young heart sobs, cause
"Good evenening ladies and gentlemen welcome to Hollywood, California"
[Charli 2na]
The city of angel's wings represents people's hopes and dreams
And the evil that men do that live life close to kings
And boast supreme, fancy cars, coats, and cream
Material things provoke more folks to scheme
Whether you paid your cost, Cali green made your call
The smog covers the city like a table cloth
Is it fame at fault? Entertainers labeled soft
The place where people come to lose their train of thought
[Zaakir]
Despite the claims of what LA is and what it ain't
The picture the city paints that overexaggerates
Within the circus, if you're filling this service purpose
Some feel it ain't worth it, the city that's got you nervous
And make you injure, and get up out of here nigga
Cause LA never considered for those that need baby sitters
This is the hot bed for singles and newlyweds
Some looking for better gigs or fiending to make it big
It's the only place where stars are born
And we are the only ones that can't be worn
Out, by any place regardless of the cost
Cause brothers with big dreams, sometimes they get lost cause
[Jurassic 5]
Yo, we are no superstars
Who wanna be large and forget who we are
Don't judge us by bank accounts and big cars
No matter how bright we shine we're far from being stars
Cause stars fall, and disintigrate before they hit the
Asfalt, they incinerate cause we came
Not to destroy the law but to fulfill
For those who appreciate those with skills
And..., and...
What is a DJ without the (scratching)
Without the elements, it's all irrelevant
(I represent the real from the beginning to the end of it)